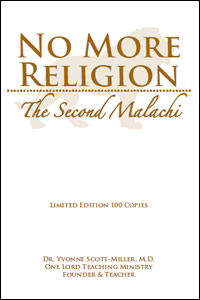 No More Religion
The Second Malachi
Available FREE on E-mail Books.com. Sending the FREE Gospel of Jesus Christ to the world!
Click on the link below to access the complete 140 page book (PDF download times will vary).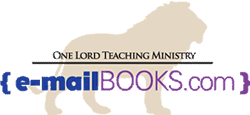 ---
I Have A Baby On The Way
Inspirations from the Word of God
---
One Lord Teaching Ministry Series
Book I: Your Anointing
One Lord Dome
Hwy 316 & Collins Hill Road
Lawrenceville, GA
"Build It and They Will Come."

You are invited to become an active part in building the One Lord Dome. The One Lord Teaching Ministry began in August, 2008. I do not own the land @ Hwy 316 or have the funds to purchase it. I also do not have an established facility for teaching or congregation backing. What I do have is Jesus and Favor. I also have you.
You are men and women hungry for a relationship with God. I pray that you will send prayers, favor and your best gift to the Ministry. 100% of your gifts will go to make the Vision a reality.

---
The Gift
64 Frequently Asked Questions by Christians
---
Dr. Yvonne Scott-Miller
Weight Loss Program Handbook
Plus The Daniel Diet
Stop using the old excuse "All of my family members are Big."
The devil is a liar. It is up to you to make a choice to continue the "Family Curse" or to Stop It! If you want to be a blessing to yourself and your family, this book is a must read.
Dr. Yvonne Scott-Miller's Weight Loss program combines FDA Approved Medications with easy to follow Pearls. Since 2002, thousands of pounds have been lost by participants in the program.
BONUS INSIDE: The Physician Program Information. Now your Doctor can use Dr. Yvonne Scott-Miller's Tool in their own Private Practice.
Price: $50.00 (Free with Weight Loss Program)
Call 770-682-9002 for a Free Consult Today